How strong is your belief in God's promises? Let's get real and ask some tough questions. How many times do we end up relying on our own devices and decision making and not turning toward God?
Have you ever stopped to think if your life may be different if you learned to believe 100% and have enough faith to allow God to fulfill his promises to us?
It's that little voice in your head whispering nasty little lies such as:
"I'm going to fail as a coach"
"She/He is so much better than me."
"I have invested so much money on education for nothing"
"I am too busy, too pressured, too this or that."
We all have those self defeating, limiting beliefs, no doubt. It might start with a simple thought… "Did God really call me to a ministry and profession as a coach?" Then, that thought begins to snowball with others… "Am I really prepared to do this?" and "Do I even have what it takes to be successful?" Before you know it, you may be questioning your entire life coaching career and seriously considering if you should throw in the towel altogether.
It's important to remember that we are involved in a spiritual battle every day of our lives. There is an eternal battle for our soul and most of the time, the warfare starts out very subtly.
All lies that we believe on a daily basis. What if we begin affirming ourselves? Providing self affirmation and the type of self love that only comes from understanding how God loves. God's truth.What if we ONLY believed God's truth? What kind of a difference would it have on us? On our careers and our ministries?
Here is the GOOD NEWS!
Psst…let me share something with you…those thoughts… are nothing but LIES. Lies that the enemy uses to try to disable you, to paralyze you and to keep you from being the person that God created you to be. The trick is to recognize the lie as it enters your mind and remember it is just a thought. A thought we can control, then it becomes so much easier to ignore.
In fact, the truth is you are prepared, you are equipped and you are capable. Because God says you are.
If God has called you to a coaching career and you feel Him leading you to minister to others in this way, you can trust in His promises. Always keep at the top of your mind, "He has plans for Me long before I even knew about them". Keep telling yourself until you believe it yourself!
Let God's Word remind you… "I am God's masterpiece created for good works that He prepared long before I was born" (Ephesians 2:4) and "For I know the plans I have for you,' says the Lord, "plans for good and not for harm, not for evil; plans to prosper" (Jeremiah 29:11).
Isn't that amazing to think about? God had these plans for you before you were even born. That should definitely give you confidence!
"You are fearfully and wonderfully made and you know His works are wonderful" (Psalm 139:14)
Declare your own Truth!
So, the next time you find yourself giving in to that voice in your head and starting to believe those lies, remind yourself who you belong to and declare truth over yourself by reciting God's promises.
I was created for good works by God himself.

God has prepared me with everything I need.

God has a plan for me and I will prosper.
Stop wondering "what if" and start believing in God's promises right now. Fight back against those lies with God's Word and step fully and confidently into who God created you to be.
Many Blessings!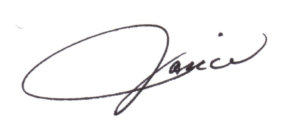 Questions to Ponder…
What promises has God made to you about your career and ministry?
How will you demonstrate your belief in these promises on a daily basis?
How can you incorporate the principle of "what if" when working with your clients?
Want to learn more about Believing God's Truth and Promises? We invite you to view a taped FB Live video on this subject. Click Here.